How does Malaysia's current healthcare system compare with Japan?
In this issue of the Asian Newsletter, let's discuss about some of the key differences in healthcare and reimbursement in comparison to Japan.
Malaysia's Healthcare policies and system: How it differs from Japan
There is one large difference in Healthcare policy between Malaysia and Japan.
1. Malaysia's 'two-tiered healthcare system'. Public and Private are separate.
Malaysia's healthcare system operates as a 'two-tier healthcare system', whereby the Malaysian Government funds and provides a tax financed Universal Healthcare System (Public Healthcare) while co-existing with a Privatized Healthcare System, which is mainly reimbursed by private health insurance or out-of-pocket from patients[3,4].
Public Healthcare is available for all Malaysian Nationals and is provided almost free from public hospitals controlled by the Ministry of Health. Although Public Healthcare in Malaysia, particularly in tertiary/specialist hospitals are well equipped, public hospitals are commonly overloaded and understaffed with long waiting times especially for elective surgeries and therapies. [1,3].
To support Malaysia's medical needs to provide high quality healthcare, Malaysia allows private hospitals and clinics to operate financially independent from the Government. Private Healthcare in Malaysia does not rely on Government funding and is mainly reimbursed by Private Medical Insurance or directly paid by patients who have elected for private treatment.
Because of this 'for profit' environment, the private healthcare industry has grown quite large in Malaysia and is capable of providing the latest or newest medicines and medical equipment while maintaining competitive service pricing in the country.
In addition to this, with the exception of drugs listed in the MOH Pharmaceutical Services Programme (PSP) [5,6], there are no policies or regulations which control drug pricing in the private sector. In other words, it is up to manufacturers, distributors or retailers to offer their prices in the free market to respective private hospitals in Malaysia.
2. Both Public and Private Healthcare in Japan can be covered by the National Health Insurance System
In Japan, the healthcare system is primarily reimbursed by either National Health Insurance or a category of Employee's Health Insurance [7]. Both Public and Private Hospitals in Japan are organizations covered by universal health coverage and thus citizens in Japan have more freedom to choose whichever medical institution.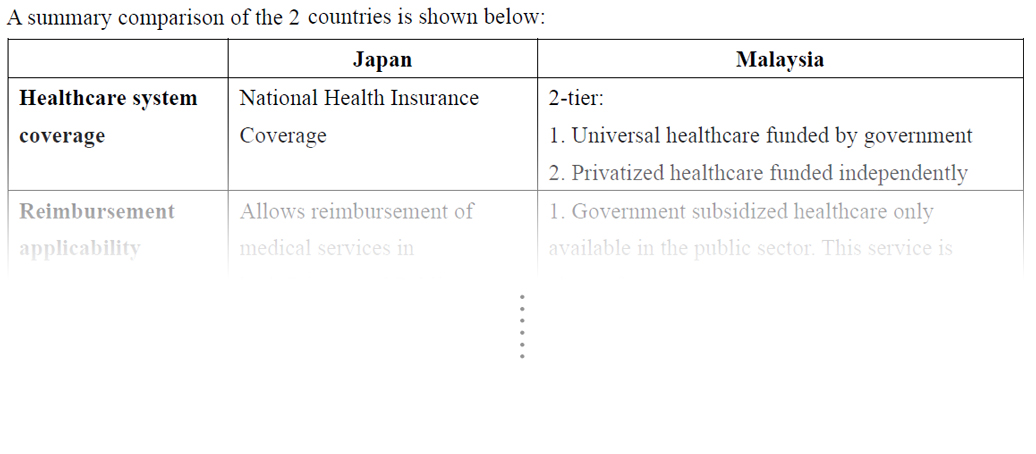 Full text & latest issue is found in the mail magazine "Global Newsletter"
The "Global Newsletter" provides the latest information pertaining to clinical trials in the Asian region, including timely updates from Local Health Authorities in the regions of coverage and medical advancements of interest.
To subscribe to the Asian Newsletter, please contact us via the following form.