Overview
One of the continents that has been gaining more relevance for clinical trials in recent times has been Latin America, but to better understand this market let's start with some relevant data. According to the Institute for Health Metrics and Evaluation (IHME), University of Washington; there is a high prevalence of chronic diseases in Latin America, some of which stand out; for instance, ischemic cardiopathies, and consequently, cardiovascular diseases represent an important percentage of the causes of death in the region; for instance in Mexico, they represent 20% of the total deaths in 2021, on the other hand, in Brazil, it is the leading cause of death according to latest National Health Survey (2019). Interestingly, Type 2 Diabetes is also very prominent in the continent. In 2019, it was estimated that 32 million people had diabetes and the prevalence of the disease was expected to rise by 55% in the next 25 years.
Additionally, according to European Society for Medical Oncology (ESMO); in the region of Latin America and the Caribbean, 1.5 million new cases of cancer are detected per year with an incidence and death rates between 186.5 and 86.6 per 100,000, respectively. Being the most common cancers in 2020 were prostate (15%), breast (14%), colorectal (9%), lung (7%) and stomach (5%).
Finally, Latin America, as a seasonally tropical country, houses many vector borne diseases, some of which are considered neglected tropical diseases. Currently, during this year (2023) there has been an increase in the number of cases of dengue fever, with the most affected countries being Brazil having more than 864,147 possible cases. Other countries with considerable numbers include Argentina, Colombia, etc. In the case of Paraguay, it is currently facing a chikungunya epidemic with more than 72,022 confirmed diagnoses, surpassing Argentina. Lastly, another endemic disease of health concern within Latin America is Chagas Disease, infecting about 6 million people and causing an average of 12,000 deaths per year according to the Pan American Health Organization (PAHO).
Clinical Trials Market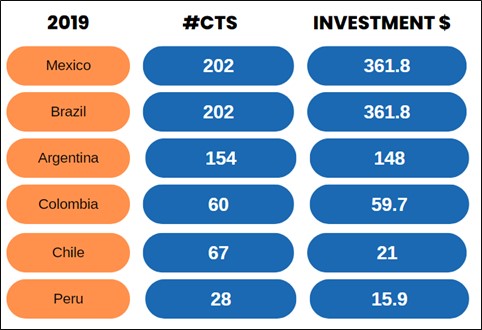 Source: Clinicaltrials.gov (2019) & IQVIA Institute Reports. #Clinical Trials vs Investment (USD)
The pharmaceutical sector invested more than $1 billion in Latin America in 2019 alone, funding close to 700 clinical trials, where Brazil, Argentina, and Mexico held approximately 70% of the total of Clinical Trials in the region.

Latin America provides various benefits that make it an appealing region for pharmaceutical companies and researchers to conduct clinical trials. Here are some ……
Full text & latest issue is found in the mail magazine "Global Newsletter"
The "Global Newsletter" provides the latest information pertaining to clinical trials in the Asian region, including timely updates from Local Health Authorities in the regions of coverage and medical advancements of interest.
To subscribe to the Asian Newsletter, please contact us via the following form.